The journey of a startup – like Chimoney can be full of challenges, from developing the initial idea to building a product, and then trying to get it into the market, with an ambitious goal to create a high impact globally. However, some programs can help startups navigate these challenges and bring their ideas to life. The Accelerator Center Studio Program (AC:Studio) is one such program that offers support and guidance to startups in their early stages.
In September 20222, we at Chimoney were thrilled to be accepted and selected, amongst the other 100 businesses across southern Ontario, Canada, to join the program and receive up to $100,000 in seed funding. By participating in the AC:Studio accelerator program, we get the amazing chance to work with innovation partners, learn from experts through mentorship sessions and training, and acquire essential market resources. What's more, we will be participating in AC:Studio Innovation Showcase, happening on March 2, 2023, where we have an in-person Chimoney booth and the opportunity to network with liked-mined people.
Why AC:Studio?
The Accelerator Center Venture Studio Program (AC:Studio) is owned by the Accelerator Centre, ranked Canada's #1 private business accelerator and is among the top five such organizations globally. The AC offers an extensive selection of customizable opportunities for startups across Canada—allowing founders to bring their innovation to life rapidly.
The AC:Studio program was launched in June 2022, with a $10 million Government of Canada investment through the Federal Economic Development Agency for Southern Ontario (FedDev Ontario). Through AC:Studio, the Accelerator Centre will work with 100 early-stage companies across southern Ontario to provide up to $100,000 in critical seed funding, mentorship, and tactical support delivered through its ecosystem partnerships.
Chimoney's experience at the AC:Studio Venture Program
Joining AC:Studio has been a game changer for our startup. The program offers access to resources, mentorship, and a community of like-minded entrepreneurs and has given us the tools and knowledge necessary to turn our idea into a viable product. Through the program, we got feedback on our strategies from experienced professionals, who helped us fine-tune our idea and develop a clear strategy for bringing it to the market.
During the program, ChiHeroes (Chimoney's employees) were driven to ask questions, be better, and be the best at their jobs. The program is designed to provide support in all areas, including business strategy, market research, branding, fundraising, product development, finance, operations, sales, and human resources management. Our team found the mentorship particularly valuable, as it gave us access to people globally with a wealth of experience in the industry. Their guidance and feedback helped us avoid mistakes and make the right decisions for our startup.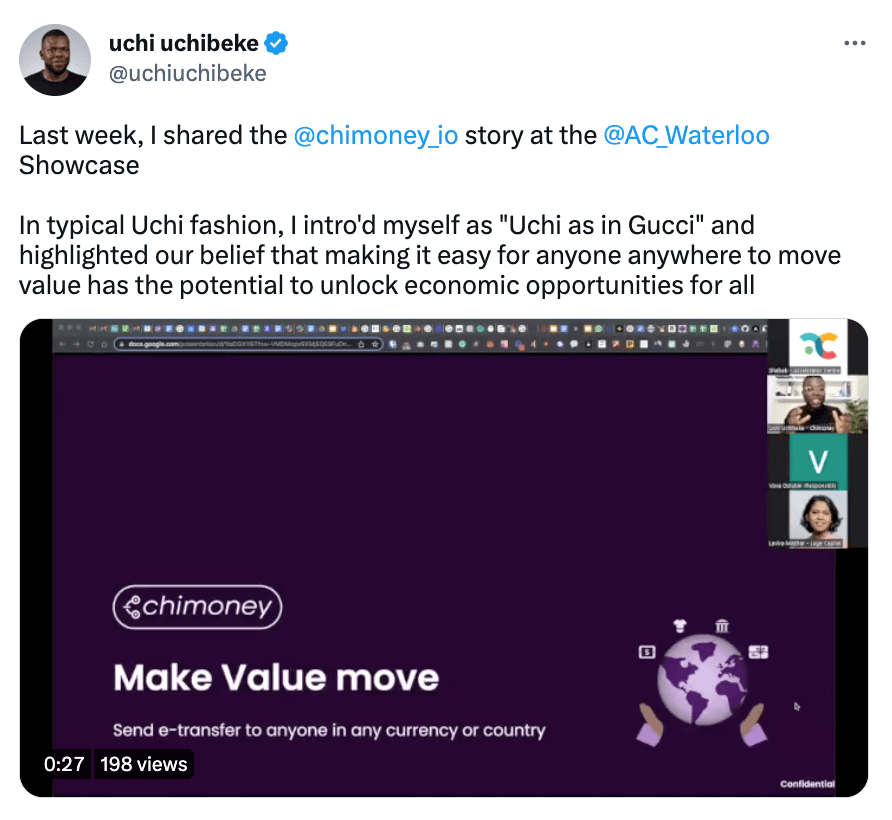 "The AC:Studio program has been an accelerant of Chimoney's mission: the program enabled us to connect and scale our connections and impact within Canada," said Uchi Uchibeke, founder and CEO of Chimoney. "We have been able to meet some amazing companies, investors and partners and we've refined our storytelling and sales and marketing plan to achieve our revenue and client experience goals."
"The AC Accelerator Program provided me with mentorship in both sales and operations, especially when I shifted my focus from Business Development to operations and HR. The mentors at the Accelerator Program offered guidance and support in making a smooth transition into this new area. The mentors also gave me access to resources needed to effectively grow Chimoney's business and increase our global team," said Hammed Babatunde, Chimoney's Operations and HR Manager.
We at Chimoney encourage other startups to consider joining the Venture program and take advantage of its incredible resources.
Upcoming excitements: AC:Studio Innovation Showcase
The AC:Studio Innovation Showcase 2023 is a ground-breaking, in-person event that celebrates the success of the incredible startups that have been a part of The Accelerator Center Studio Program. It's an opportunity to showcase the local Canadian startups and innovations that have come out of the program and to connect with potential investors, customers, and partners.
We at Chimoney don't hesitate to participate in this event, and we'll host a booth at the AC:Studio Innovation Showcase on Thursday, March 2nd, 2023. We couldn't be more excited since the event is hosted right here in our home province: Ontario.
Where: evolv1 - 420 Wes Graham Way, Waterloo, Ontario
When: March 2, 2023
Time: 1:00 p.m. to 4 p.m.
The AC:Studio Showcase is a free community event. All are welcome. Feel free to drop in and stay for a short time or network for as long as possible. We're excited to be a part of this event and to share our ideas with others passionate about innovation and entrepreneurship.
Scale your business with the accelerator program.
In conclusion, joining The Accelerator Center Venture Studio Program has been a game-changer for our startup. It has given us the resources and guidance to develop our business and take it to market more confidently.
We're also thrilled to be a part of the AC:Studio Innovation Showcase and can't wait to connect with others who share our passion for innovation and entrepreneurship.
Spoiler alert: Uchi Uchibeke will be presenting about Chimoney at the event. Expect to grab our do-not-miss event swag, get personalized product demos, play-to-win games, and gain Chimoney experience at our booth. More details would be announced on our Twitter (@chimoney_io).